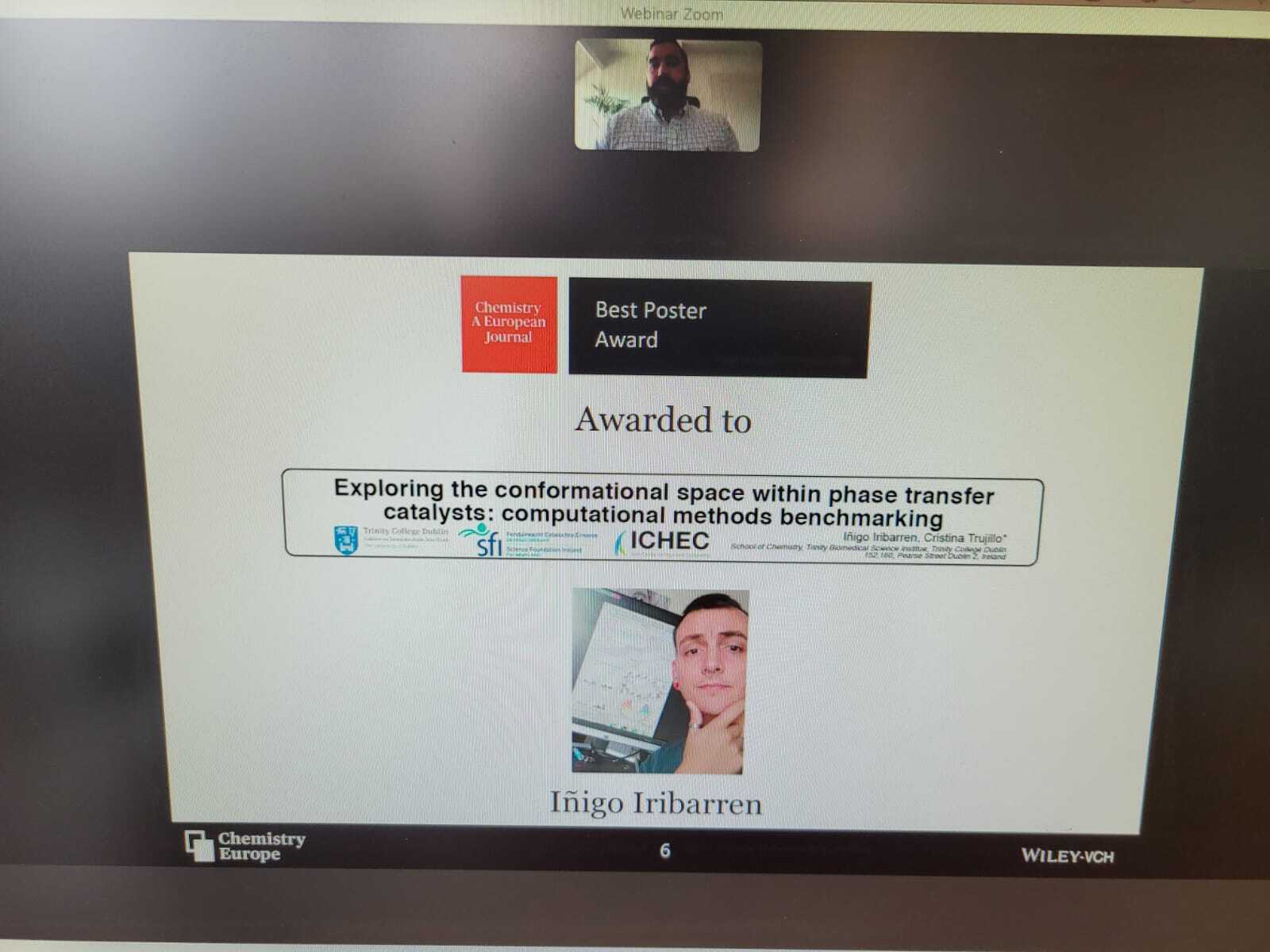 Best poster award CBOND2022online ChemEurope
Iñigo, amongst the winners of the poster award over the CBOND 2022.

Poster award winners WATOC2022
Iñigo, amongst the winners of the poster award over the WATOC 2020 Congress (World Association of Theoretical and Computational) being held in Vancouver!!

TCD Chemistry Education and Public Engagement Symposium 2022
The TCD Chemistry EPE Symposium is the annual showcase of the Chemistry Education and Public Engagement (EPE) activities and projects. The TCD Chemistry EPE module provides valuable training for PhD researchers in communication, presentation, education and public engagement skills. The symposium features a mix of guest speakers and presentations from the Chemistry EPE Module project teams.
Nika and Rica presented a project titled: "A Computational Approach to Chemistry"
Unique insights afforded to us by computational chemistry
Though experimentation is still king in most chemists' minds, computational chemistry has the potential to transform the field.
https://www.advancedsciencenews.com/unique-insights-afforded-to-us-by-computational-chemistry/
Advanced Science News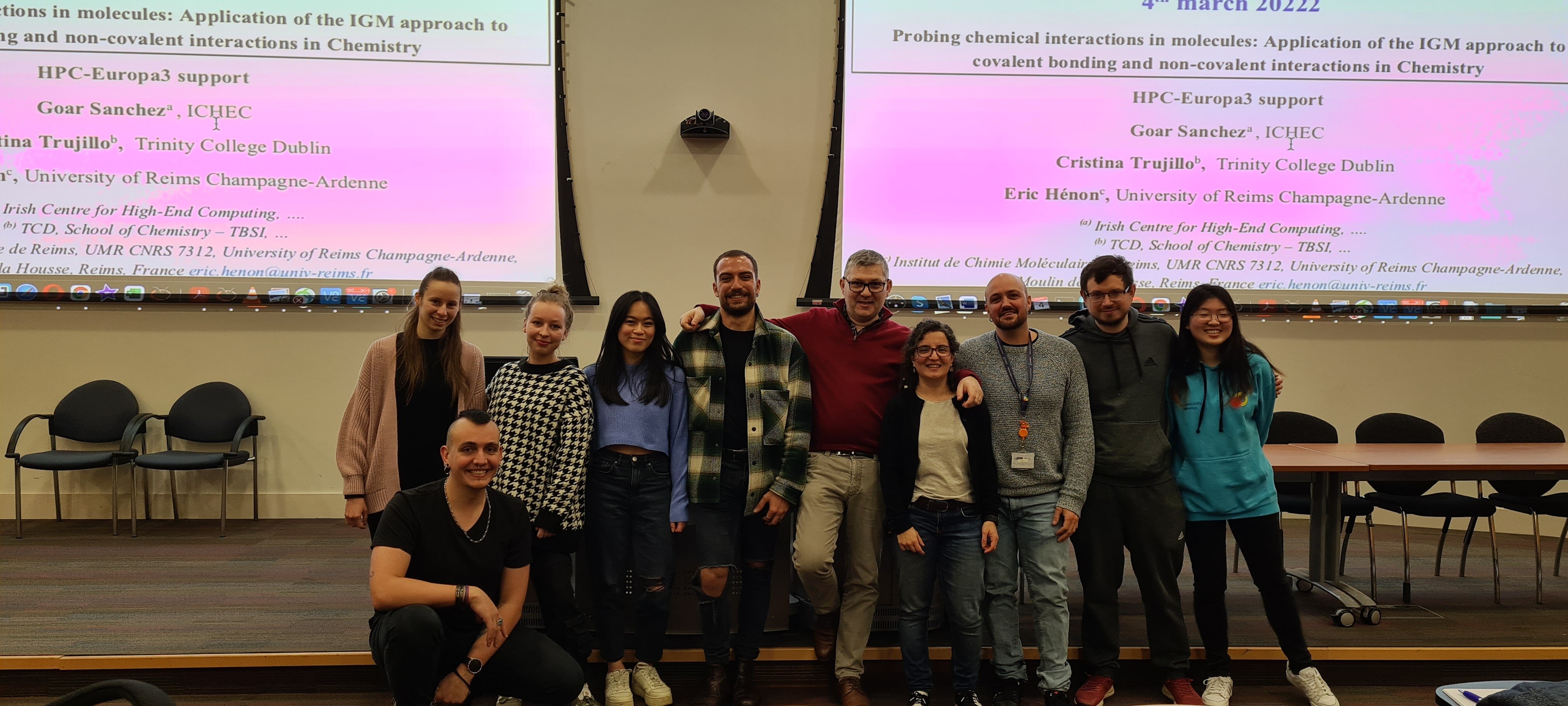 Workshop on the Application of the IGM approach to covalent bonding and non-covalent interactions in Chemistry
Prof. Eric Henon, from Université de Reims Champagne-Ardenne, talked about the new approach, "Independent Gradient Model" (IGM), for probing
strong and weak interactions in and between molecules. A software has been developed by his group, named IGMPLOT to reveal molecular interaction signatures
from the electron density topology through the definition of a new local descriptor called δg. http://www.henon.free.fr/
IDA Ireland
IDA Ireland Review on women in STEM
Delighted to be part of the IDA Ireland Review on women in STEM. Speaking about what's needed to improve the number of women in STEM and my personal experience in Spain and Ireland
IDA Ireland
Quantum chemists conjure recipe to turn gold, silver and copper into vessels of green energy
Our last paper published in ChemistryOpen in where we study the formation of molecular hydrogen as well as the possibility of using coinage metal hydrides as a prospective complex to produce hydrogen was published in different media:
* Silicon Republic: https://www.siliconrepublic.com/innovation/gold-silver-copper-green-hydrogen-energy
* Trinity news https://t.co/F1pDwWQyJE?amp=1
* Phys Org. https://phys.org/news/2021-09-quantum-chemists-conjure-recipe-gold.html
Silicon Republic
Guest Editor. Special Issue 'Organocatalysis: Mechanistic Investigations, Design, and Applications'
Delighted to be the guest editor Catalysts_MDPI for a Special Issue: "Organocatalysis: Mechanistic Investigations, Design, and Applications". This Special Issue focuses on synthetic and computational organic chemistry and their contributions to enlarge and enhance our understanding of organocatalysis. This will include studying, predicting, understanding, and validating chemical reactivity in catalytic systems.
MORE INFO
Sunday Longread: Female mentors in STEM fields are a precious resource, not a disadvantage
On the Trinity News talking about "Female mentors in STEM fields" with amazing colleagues, Prof. Rozas and Dr. Anglione.
Article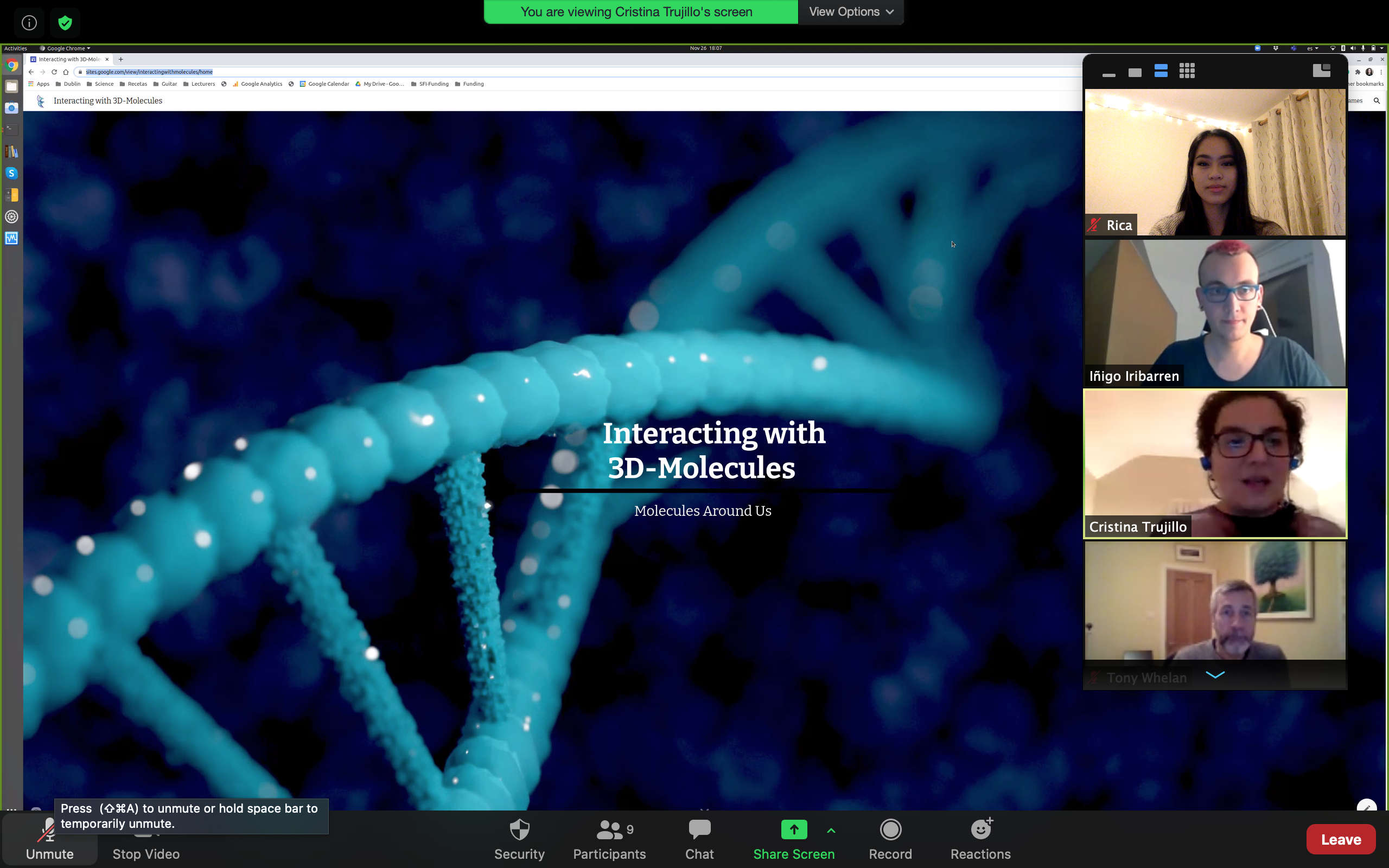 EUROPEAN RESEARCHERS' NIGHT AT TCD. INTERACTING WITH 3-D MOLECULES. SOAP VS COVID
We have developed a site dedicated to 3-D visualisations of the molecules all around us!
You can find historical facts, funny interests, beautiful 3D structures, and amazing stories to enhance your fascination for the world of molecules.
https://sites.google.com/view/interactingwithmolecules/home
https://iribirii.github.io/
BLOGS AVAILABLE HERE
TCD CHEMISTRY OUTREACH SYMPOSIUM
Presentation at TCD_Chemistry Outreach Symposium from my Ph.D. student, Iñigo Iribarren, and Mark Nolan. Very visual and clear simulations of how soap interacts with viral particles.
Simulations available
C&EN CELEBRATION WOMEN IN CHEMISTRY
March is Women's History Month! C&EN BrandLab and @pfizer are highlighting one amazing woman in #chemistry each day of the month. Watch this #PfizerProud #WomenInScience THREAD every day
Twitter
CHEMCATCHEM SPECIAL ISSUE "WOMEN OF CATALYSIS"
ChemCatChem celebrates the achievements of female‐led research groups in the field of catalysis showing some of the best research led by women in the field of catalysis. DOI:10.1002/cctc.201901187
Dr. Trujillo presented an experimental & computational DFT study of the Steglich rearrangement, showing that fluoride promotes O- to C-acyl transfer in 2-oxindole derivatives via a nucleophilic mechanism DOI: 10.1002/cctc.201900756
LINK
HIGHLY COMMENDED – 2019 L'OREAL-UNESCO FOR WOMEN IN SCIENCE UK & IRELAND FELLOWSHIP
Cristina Trujillo has been selected as one of our Highly Commended 2019 L'Oréal-UNESCO For Women in Science UK and Ireland (FWIS), shortlisted from 337 eligible applications.
2019 L'Oreal-Unesco UK
Awarded 2018 SFI Starting Investigator Research Grant: SFI-news
Cristina Trujillo's project is "Theoretical Development of New Class of Phase Transfers Catalysts: Applications in the Pharmaceutical Industry" will use computational methods for initial chemical design, rather than to explain experimental findings.
SIRG - SFI 2018